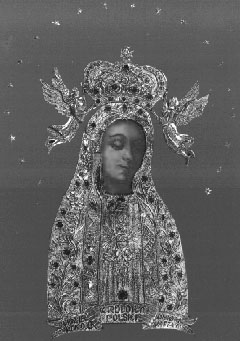 <!UL>


ICONS OF THE LICHEN VIRGIN
---
Lichen is one of Poland's important pilgrimage and Apparition sites. Lichen is located in southwestern Poland within traveling distance of Jasna Gora, another pilgrimage site famous for the Mother of God of Czestochowa icon.
Two short historical accounts are provided below accounting for the importance of the Lichen icon in Polish culture and history.
---
This first account of the "Icon of the Virgin Mary from Lichen" has been provided by Priest Marist Eugeniusz Makulski, custodian of the Sanctuary in Lichen.

Famous for its graciousness, the "Icon of the Virgin Mary from Lichen" was painted in oil on a larch board (6.3 x 9.1" 16 x 23 cm). Mary has a White Eagle on her breast instead of the Child, and she is directing her closed eyes towards it.

The face of Mary is full of dignity, majesty, and pain. On her golden coat you can see the symbols of the Passion of Christ: thorn, crown, ships, nails, a spear, and others. Two angels support the Queen's crown on the Holy Virgin's head. Below you can see the inscription:

"Queen of Poland - Give Freedom to Our Days"

An analysis of the painting shows that it might have been painted about 1772. In 1844 Tomasz Klossowski, injured in the battle near Lipsk, miraculously save the Virgin Mary - placing a likeness of the Virgin Mary in a little chapel within the Grabin Forest.

In 1852 Church Authorities ordered the picture of the Madonna, considered by the faithful as miraculous, moved to the Church of the parish in Lichen. That is the way that Mary's Sanctuary in Lichen was founded. It is known around the world.

During the Second World War, the Sanctuary in Lichen fell victim to Hitlerism, but the miraculous painting was saved and in 1945 was brought back to the looted shrine. In 1949 the Congregation of Marists took charge of the Sanctuary. In 1965 Pope Paul VI issued an edict announcing the confirmation of the gracious Picture of Virgin Mary in Lichen as miraculous and ordered its crowning with the Pope's Crown. On 15 August 1967 Cardinal Stefan Wyszynski, the Primate of Poland, conducted the crowning ceremony.

Priest Marist Eugeniusz Makulski, who provided the above historical notes, has been the custodian of the Sanctuary in Lichen since 1966. He has expanded worship of the Virgin Mary of Lichen in Poland and the world. A new temple has been built in Lichen since 1994. It will become the largest temple in Poland and the seventh largest in Europe. About one million pilgrims visit the Sanctuary annually.
---
Additional notes below are taken from Apparitions of Mary in Lichen, Poland.

Tomasz Kl`ossowski When: 20th October 1813
Where: the battlefield near Leipzig, Germany
Whom: soldier Tomasz Kl`ossowski, living near Lichen`

Message: Wounded Tomasz Kl`ossowski was praying lying on the battlefield, asking for the grace of dying in Poland, and not on foreign soil. He saw the Mother of God in a golden coat, with visible symbols of painful death of Jesus Christ (the cross etc.), holding White Eagle in her hands.

She promised him health and a return home. And she ordered him to find her picture. Look at me carefully, she said. I must look on that picture as you see me. You shall place this picture in a public place in your village. My nation shall pray in front of it and will obtain great blessing from my hands in the most difficult of times .

In the spring of 1814 Tomasz really returned home and commenced looking for the picture of Virgin Mary as she ordered. Finally, on September 9, 1836 he found the image in a lost wooden chapel in a field 9 kilometers from Cze`stochowa. The owner of the field allowed him to take this picture with him, both of them being satisfied.

Tomasz placed the picture in a chapel in his house and prayed a great deal. In 1844, after a repeated requests of Virgin Mary, he finally placed the picture in a wooden chapel on a high pine tree in the near Graa`bin`ski Wood.

<!/UL>